Protecting Your Holiday Packages From Porch Theft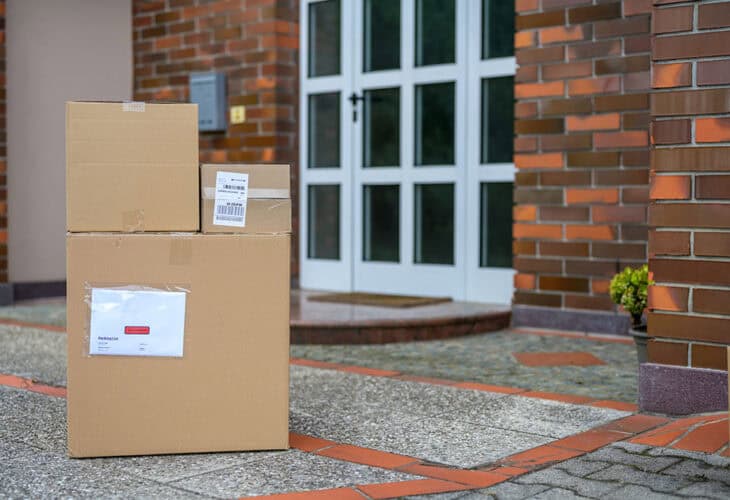 Online shopping is bigger than ever, with nearly 28% of shoppers turning to online stores and retailers for their regular purchases. And with the holidays just around the corner, the number of online orders is only going to rise. While online shopping may be convenient and lets you skip the lines you'd find in stores, having packages delivered right to your door or mailbox is not without its risks. Packages may sit outside for hours unattended, often luring thieves (aka "porch pirates") to scoop them up first.
Here are a few simple tips to help you protect your home and your packages from would-be thieves.
1. Stay On Top of Tracking Numbers
Most online retailers send you tracking numbers for every order or package they send out. Get in the habit of checking those tracking numbers every day or two while you're waiting for your packages. This way, you'll know where the packages are, whether they're delayed, if they're on the vehicle for delivery, or when they get delivered. You can even sign up for notifications telling you of any changes in the packages' movements.
If you notice anything fishy or get a delivery notification only to find that the package is missing, you'll be able to report the loss quickly. And the sooner you do, the sooner you can work out a solution with the shipper or merchant.
2. Hold Packages for Pickup
Though getting packages sent to your home is convenient, it's not always ideal if you're worried about theft and porch pirates. Most shippers give you the option to have packages delivered to their customer service center in your town. Use this to your advantage. If you've heard of an increase in theft in your neighborhood or know you won't be home to receive your package, ask the shipper to hold it for pickup.
Once the package reaches the pickup location, you'll receive an email or text message, depending on your personal preference. The customer service representatives at the pickup location will ask for your ID before they'll release the package into your possession. That means you won't have to worry about someone picking up your package by mistake.
Keep in mind that you may need to sign up for an account with the shipper. For example, FedEx™ asks that you sign up for Delivery Manager® to make those requests.
3. Step Up Your Security
Home security systems can easily capture evidence to help police catch porch pirates. Even better, they can end up deterring porch pirates in the first place. Remember, these thieves want to intercept your Amazon shipments without getting caught. If they see a surveillance camera installed by your front door, they'll be less likely to go through with the theft.
Many people have had success with video doorbells or security cameras.
Make sure that thieves can see evidence of those security systems. You can buy stickers and signs with the major security system providers' names and logos at most hardware stores or get them directly from the company you're working with. Place those signs in street-facing windows so they're easy to see.
4. Team Up With Neighbors
Your neighbors can be your best line of defense against porch pirates and thieves. If you're expecting a package on a certain day but know you won't be home to pick it up, one of your neighbors can grab it for you. You can return the favor the next time they're expecting a delivery. Just make sure to ask your neighbor to text or call you when they pick the package up, so you don't panic thinking the package was stolen.
5. Invest in a Package Lockbox
If you're the type of person that does tons of online shopping throughout the year, a package lockbox may be a great investment. These boxes have openings large enough for delivery drivers to deposit most packages inside. The system has a locked retrieval door to keep your packages safe from even the most determined thieves. You can even secure the lockboxes to your porch or a cement pad in your yard for added security.
Keep in mind that these lockboxes aren't for everyone. They range in price from $200 to well over $2,000 and can be difficult to install and use. Lockboxes are best for those that do the bulk of their shopping online and live in a theft-prone area.
6. Use Delivery Instructions
Most carriers allow you to enter delivery instructions either at the time of your order or by creating an account with them. Tell delivery drivers to take your packages to a less conspicuous location like the side gate or back door.
If you choose to leave delivery instructions, make them as clear as possible. Point out any distinct features of the area where you want the package left. For example, if you have a specific decoration or planter that you want the package left behind, describe it in as much detail as the character limits allow.
7. Have Packages Delivered to Your Workplace
If you know you won't be home when FedEx™ or USPS delivers your packages, consider getting them delivered to your workplace. Ask your boss or supervisor if it's okay before you schedule the shipment and, if they approve it, get your holiday packages sent to your office.
Ready for the Holidays?
Protecting your purchases is just the beginning. Start planning for those holiday expenses ahead of time. Set a budget, shop around for the best prices on gifts for your loved ones, and look for extra ways to build your savings now.
This content is provided for general information purposes only. Must meet membership and account criteria. FedEx is a trademark and Delivery Manager is a registered trademark of Federal Express Corporation.