Community Impact
Creating a Ripple Effect
Volunteered
400+
hours of volunteer time to various causes in our community.
Awarded
$6,500
in scholarships to deserving members.
Donated
$43k+
to causes directly impacting our communities.
Our Purpose.
BluPeak is dedicated to building community, inspiring compassion, and being a conduit for positive change by supporting access to clean water as a means of bridging socioeconomic gaps and providing aid to those in need.
Together San Diego presented by BluPeak Credit Union
Presented by BluPeak, the SD Loyal volunteer arm Together San Diego continues to unite community activation and volunteer efforts. In 2022, SD Loyal and BluPeak combined to give back with more than 1,000 volunteer hours across 35 events, including youth soccer camps, food distributions, gardening projects and home furnishings. During the SD Loyal "Day of Service," staff members volunteered across the county to provide healthy meals for families in need, prepare home decorations and furnishings for families transitioning out of homelessness and mentor youth at JA BizTown. To close out the holiday season, BluPeak and SD Loyal completed an Angel Tree, providing 60 unique gifts, 100 SD Loyal jerseys and 100 books to Ronald McDonald House™.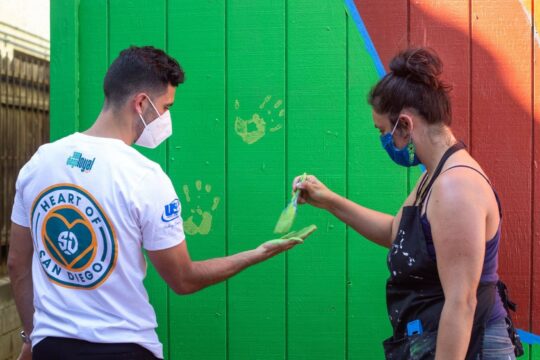 We're turning the tide on access to clean water
We've committed to donating 1% of our 2023 revenue to water-related causes. To start, as of January 1, 2023, BluPeak has begun donating each full new membership fee to Water For People.
Why Access to Clean Water?

Water is essential for life, and we believe that everyone deserves access to safe, clean water. More than 30 million Americans currently live in areas where water systems do not meet Environmental Protection Agency safety standards. And more than 1 million households in the U.S. lack piped running water. Clean water changes lives, and we're proud to support water-related charitable organizations dedicated to turning the tide. Improving access to reliable and safe water helps bridge socioeconomic gaps and offers significant benefits in the form of improved health, hygiene, education, and opportunities for infrastructure development.
You Belong at BluPeak.
Every day, we're helping California communities reach their peaks.
In 2022:
Helped
1,436
Californians green-up their homes with low-cost renewable energy loans.
Provided more than
$208M
in mortgage loans, helping over 422 Californians realize their dreams of home ownership.
Provided more than
40
hours of Financial Education to members seeking to improve their financial knowledge.
Disclosures
Must meet membership and account criteria.