Community Impact
Transforming lives by making dreams happen
Volunteered
430+
hours of volunteer time to various causes in our community.
Awarded
$16,500
in scholarships to deserving members.
Granted
99
hours of Financial Education to members seeking to improve their financial knowledge.
How we give back
Our passion for making a real and positive difference in people's lives is one of the things that makes BluPeak different from typical financial institutions. Here are some of the causes we supported in 2021 that demonstrate our commitment to our communities' health, wellness and well-being.
Serving Seniors
We helped this organization serve disadvantaged seniors with book donations that fostered social distanced camaraderie around mutual interests, then celebrated the resumption of in-person activities by sponsoring "homecoming" events and donating athletic shoes to Serving Seniors' walking group.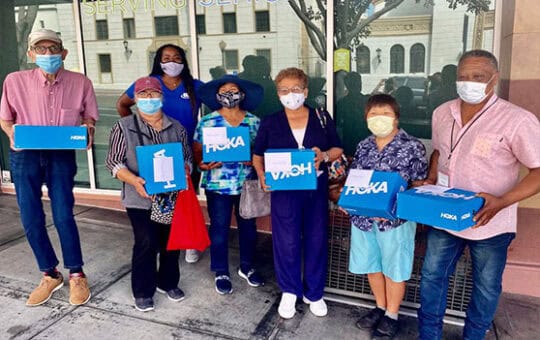 CU4 Kids
We helped children receive critically-needed medical care by contributing $13,000 to Children's Miracle Network Hospitals through our sponsorship of the CU SacTown Run and support for the CU4Kids annual wine auction.
Feeding San Diego
The fundraising and donation drives we organized provided 57,850 meals to hungry San Diegans, and our employees volunteered at events where they sorted and organized 4,900 pounds of fresh kiwis and 276 cases of peaches.
Financial Wellness
We delivered nearly 100 hours of free webinars on personal financial topics and provided free online access to comprehensive financial education resources, including articles, financial calculators and worksheets.
Heart of San Diego presented by BluPeak Credit Union
Our contributions to SD Loyal's Heart of San Diego volunteer program helped countless San Diegans get vaxxed by volunteering 4 hours a day for 2 months with Rady's vaccination clinic, volunteered more than 160 hours to clean up beaches across San Diego, and spent dozens more hours staffing Armed Services YMCA food distribution events and other activities through HandsOn benefiting 10 local nonprofit organizations.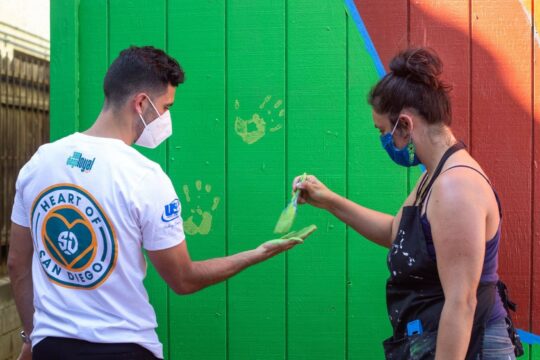 Helping Children & Families
Our support for children and families in need ranged from a Toys for Tots gift drive to cash donations, including $3,000 to purchase supplies for Afghan families relocating to San Diego, $3,000 for care packages to assist migrant children, and $3,000 to SAY San Diego's Bridges to Success program.
Building Communities
Throughout the year, we touched many more lives with blood drives providing more than 18 units of blood to area hospitals, employee participation and BluPeak sponsorship of the 2021 San Diego Pride Virtual 5K Run + Walk, and 90 thank you letters to first responders we sent via Operation Gratitude.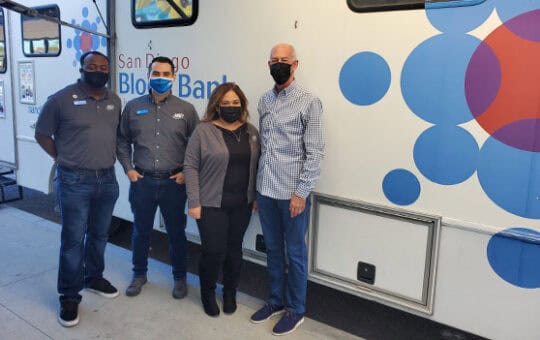 Employer Group Partnerships
Teaming up with employer group partners we delivered a $6,200 donation, gifts bags and more to support the Caltrans Highway Workers Memorial Fund and worked with StarPal, the San Diego Police Department and RJ Donovan to help provide backpacks and school supplies to 500 students in need, teddy bears to comfort 237,000 young patients at Rady Children's Hospital, and gift cards and a day at SeaWorld for deserving children joined by local law enforcement officers.
We're making dreams happen.
How Terry gained peace of mind and avoided double paying a bill

Terry wrote a check to a business for close to $1,000 and watched her account closely so she would know when it cleared her account. When the business told her the check had been processed by their financial institution, but she saw the funds hadn't actually been withdrawn from her account, she turned to Deanna who works in our La Mesa branch for help and advice. Should she write out another check to send to the company just to be safe, or wait and see?

How Terry gained peace of mind and avoided double paying a bill
Dream bigger.
Every day, we're helping California communities realize their dreams.
In 2021, we helped
794
Californians green-up their homes with low-cost renewable energy loans.
In 2021, we provided more than
$208M
in mortgage loans, helping over 422 Californians realize their dreams of home ownership.
In 2020, we donated more than
$43K
to causes directly impacting our communities.
Employer partnerships
We know how important it is to take care of your workforce. We also understand how expensive a good benefits package can be. With that in mind, BluPeak offers our employer partners a range of credit union benefits, at no cost. Let's build a package together.
Custom benefits at no cost
No matter the size and scope of your BluPeak benefits program, there's never any cost to you. We'll do all the work, while your team enjoys all the benefits.
Free financial education
We provide free, on-site workshops on a wide range of money matters. Help your team improve their long-term overall wellness by supporting their financial health.
One-on-one financial help
There's just no substitute for personalized, one-on-one financial guidance. To save your employees time and hassle, our financial experts will come to you.
ATM placements at your business
Depending on the size of your business, we can bring the credit union to you. Talk to us about placing a BluPeak ATM at your site, and add convenience to your location.
Event planning and support
Wellness programs. Special events. Giveaways. Golf tournaments. No matter what you're planning, you can count on us for support you won't find anywhere else.
Volunteer assistance
Our team members love to volunteer. At BluPeak, we're happy to consider special requests for volunteering to support our business relationship with you.
We're here to support your financial wellness

BluPeak Credit Union is a vital part of the Chula Vista community, especially here at the Veterans Home of CA, Chula Vista. Their contribution to the Home improves morale and financial empowerment.

— Thuy Mascorro, Administrator
Let's keep this thing moving along
At BluPeak, we offer a better way to bank, true—but that's just the beginning. Deeper down, our goal is to transform lives and make dreams happen. That's our vision, and we're ready to put it to work for you.
Disclosures
Partner and support activities are subject to approval. Please contact us for restrictions and more information.