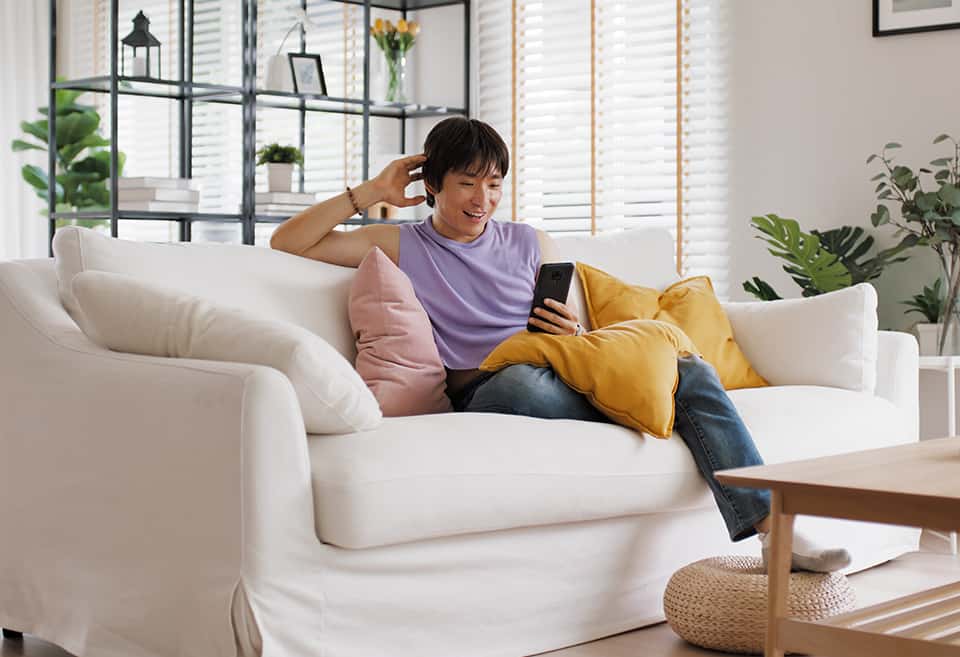 Online & Mobile Banking
Your money, your way
Do all your banking from the device you like best.
Some things go without saying—like the control and convenience you expect when you're managing your money.
Instant Info

Check your account balances and see your banking history anytime, anywhere.

Secure Access

With Touch ID® and Face ID® enabled login, accessing your accounts is easier and more secure.

Account Alerts

Set up your eAlerts to tell you just what you need to know about all of your accounts.
So what can you do with digital banking?
Whether you're accessing your accounts from a laptop, tablet, smartphone or smartwatch, digital banking makes it easy.
Track and manage your budget
Free money management tools make it easy to set a budget and track your spending.
Transfer money between accounts
Move money between your accounts here at USE or another financial institution.
Make mobile check deposits
Tap "check deposit," enter the amount, select your account, and upload a photo. Simple, really.1
Pay your bills online
Automatic bill pay is easy to set up. Forget to pay a bill? We make it easy to make it right.
Check your balance, faster
With our Quick Balance widget, you can choose to view balances any time, without logging in.
Need answers? We've got 'em.
With our Mobile Deposit feature, you can quickly and conveniently deposit paper checks using your smartphone or tablet. You're going to love it!
Simply log into the app, select Check Deposit and follow the on-screen prompts. You'll take a picture of the front of your check and another of your endorsement on the back. To finalize the deposit, you'll verify the amount of the deposit. That's all there is to it! We recommend that you retain the paper check for 30 days or until it has cleared the issuer's financial institution.
Yes! The Mobile Apps certify all devices and ensure all transactions are fully encrypted and secure on that device. To further secure your transactions in Mobile Banking, you will be required to log in the same way as you would with Online Banking.
Yes! Card Management makes it easy for you to take charge of your card, 24/7 through BluPeak Credit Union Online Banking or our Mobile App. You can:
Temporarily turn your card off or on – perfect for when you think you might have misplaced the card, since you can instantly turn it back on when you locate the card.
Report a card lost or stolen – it's the simplest way ever to report your card as lost or stolen and prevent unauthorized use.
Replace a card – with a few clicks or taps, your new card will be on its way to you.
Set card limits – puts you in control of your card's ATM or daily spending limits.
Cancel a card – if you no longer want the card, this is a hassle-free way to close the card permanently.
From the Additional Services tab in Online Banking, select Alerts & Notifications. Indicate which alert you would like to deactivate and uncheck the box for Text Alerts, or click Delete for Email Alerts.
Want push notifications? Log into your BluPeak Credit Union Mobile Banking App and tap More, Settings and Push Notifications.
Our Mobile App offers most of the features of Online Banking, plus you can deposit paper checks with the convenient Mobile Deposit feature:
Check balances
View transactions
View check images
Make transfers
Pay bills

Make deposits
Money Management is an enhanced digital banking experience that provides easier access to all your accounts in Online and Mobile Banking. Money Management allows you to:
Know your finances: See all of your accounts, including those with other financial institutions
Track your budget: Bubble charts help you understand the relative health of your budgets instantly
Watch your spending: Every transaction is automatically categorized so you can spend smarter
It's easy! You'll need to be enrolled with BluPeak Credit Union Online Banking, as well as have the Amazon® Alexa® app on your Apple® or Android® device, and an Alexa powered device. Then follow these steps:
Open the Amazon Alexa app
Select 'Skills & Games' from the app's navigation menu
Tap the search icon and search for 'BluPeak Credit Union'
Once directed to the BluPeak Credit Union skill page, click the 'Enable to Use' button
Enter your BluPeak Credit Union Online Banking login credentials and agree to the Terms and Conditions
Complete Multi-Factor Authentication by entering a one-time passcode that will be delivered to you via a phone number or email address you have on file for your Online Banking account.
Enter a four-digit security passcode that Alexa will use to authenticate each of your Voice Banking sessions.
Click the 'Continue' button and you'll see the screen confirming that your BluPeak Credit Union Online Banking account has been successfully linked.
Amazon and Alexa are trademarks of Amazon.com, Inc. or its affiliates. Apple is a registered trademark of Apple Inc. Android is a trademark of Google Inc.
Ready to take your banking online?
Disclosures
Mobile and data rates apply when using Mobile Banking.  The App Store, Touch ID and Face ID are registered trademarks of Apple Inc. Google Play is a trademark of Google Inc. Alexa is a trademark of Amazon.com, Inc. or its affiliates.
1. Deposit up to $5,000 per day. Mobile check deposits are subject to verification and may not be available for immediate withdrawal. Other restrictions apply.