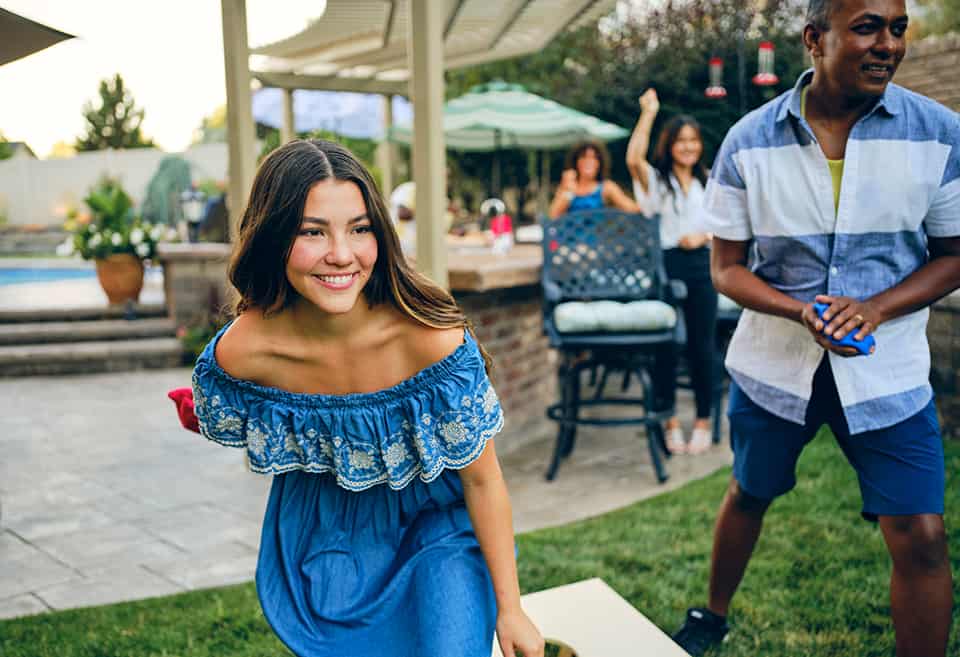 Checking Accounts
We make managing your money simple
It's not just a checking account.
It's having the tools to move confidently toward your goals, so you can build the future you deserve.
Free Checking with eStatements
A free checking account with all the features, none of the costs when you use eStatements2
A free checking account with eStatements2 designed for students
A premium, dividend-earning checking account
Simple, secure, easy to use.
See and use your money whenever you need to, on the devices that you like best, while knowing that your checking account is securely protected.
Online & Mobile Banking

Manage your money online. Make deposits on your mobile device, and see your available balances immediately1.

Direct deposit

Want to get your money faster? Setting up direct deposit is really easy.

Automatic Bill Pay

Set up automatic, recurring transactions so you never accidentally miss another payment.

Smartwatch banking

Count your steps; mind your balance. Smartwatch banking lets you monitor your money at a glance.

Access to over 30,000 ATMs

Thanks to the CO-OP Network®, you can access ATMs nationwide surcharge-free.

Alerts & eDocuments

Set up text or email alerts to track what you need to know, and get all your account statements electronically.

Chip card security

Our debit cards are equipped with EMV chip technology to protect your money – and your identity.
Let's crunch some numbers.
Need answers? We've got 'em.
The fastest way to order checks is through Online Banking. Select the Additional Services tab, then the Check Reorder link. You can also reorder checks directly through the Harland Clarke Website using the reorder coupon found in your checkbook.
For security reasons, checks can only be ordered online if your information has not changed. If you need to update your name, address, or phone number or to check the status of your check order, call us at 866.873.4968.
Adding someone to your account can be accomplished quickly and easily at your nearest BluPeak Credit Union branch. Both parties — current and prospective co-owner — must visit a BluPeak Credit Union branch and provide valid, government-issued personal identification. If you have questions or would like to mail required documentation, please call 866.873.4968.
An overdraft occurs when you do not have enough available balance1 in your account to cover a transaction (subject to the applicable fee).
Overdraft Transfer Service give you peace of mind should you accidentally overdraw your account by using funds in your other BluPeak deposits accounts or line of credit loans to pay the item.
Here's how it works. You select which accounts and which order you want us to use when accessing your other funds. For example, you can set the overdraft to pull from your savings account first and then your line of credit loan.
This service is subject to the available balance in your designated savings account and is subject to a $10 fee per item for savings transfers and subject to the available loan balance (the unused available credit line) and interest begins accruing at the time of advance for loan transfers.
To learn more or set up Overdraft Transfer Service, call us at 866.873.4968, send a secure message through online banking or visit a branch location.
Courtesy Pay Overdraft Service is an additional option to minimize the inconvenience and cost associated with overages. With Courtesy Pay Overdraft Service, we cover overdrafts on ATM and everyday debit card transactions, checks, ACH and other electronic transactions made using your checking account number.
Each covered item will incur a fee of $24 for each item, subject to the daily maximum of fees per day combined Courtesy Pay and NSF.  A fee is not charged if the resulting available balance is less than $20 negative.
To learn more or set up Courtesy Pay Overdraft Service, call us at 866.873.4968, send a secure message through online banking or visit a branch location.
Please note Overdraft Transfer Service and Courtesy Pay Overdraft Service are separate services. You must Opt-in to the specific program to activate the protection.
Disclosures
1 The "available balance" is used to determine whether your account is overdrawn, that is, whether there is enough money in your account to pay for a transaction. Importantly, your "available" balance may not be the same as your account's "actual" balance. This means an overdraft or an NSF transaction could occur regardless of your account's actual balance.  Your account's actual balance (sometimes called the ledger balance) only includes transactions that have settled up to that point in time, that is, transactions (deposits and payments) that have posted to your account. The actual balance does not include outstanding transactions (such as checks that have not yet cleared and electronic transactions that have been authorized but which are still pending). The balance on your periodic statement is the ledger balance for your account as of the statement date. As the name implies, your available balance is calculated based on the money "available" in your account to make payments. In other words, the available balance takes ACH credit transactions and debit card transactions that have been authorized, but not yet settled, and adds or subtracts them from the actual balance. In addition, when calculating your available balance, any "holds" placed on deposits that have not yet cleared are also subtracted from the actual balance.
To set up a payer direct deposit relationship, please complete our Direct Deposit Form and submit it to your employer, state or federal agency, or to another entity that pays you on a regular basis.
If you're using a different direct deposit form, please be sure to enter our Routing and Transit Number: 322281691.
Ready to take the next step?
Open a checking account online
Disclosures
Must meet membership and account criteria. Mobile and data rates apply when using Mobile Banking. Information and interactive calculators are made available to you as self-help tools for your independent use. They are not intended to provide financial or investment advice and may not be applicable to your specific circumstances. All examples are hypothetical and are for illustrative purposes.
1. Deposit up to $5,000 per day. Mobile check deposits are subject to verification and may not be available for immediate withdrawal. Other restrictions apply.
2. Additional fees may apply. For example, a fee is associated with; stopping payment on a check, if your available balance is not sufficient to cover an item, etc.
3. Monthly fee is waived with $10,000 or more in combined deposit balances, you're age 55 or older, or you have a BluPeak first mortgage.