6 Fun Ways To Get Your Kids Reading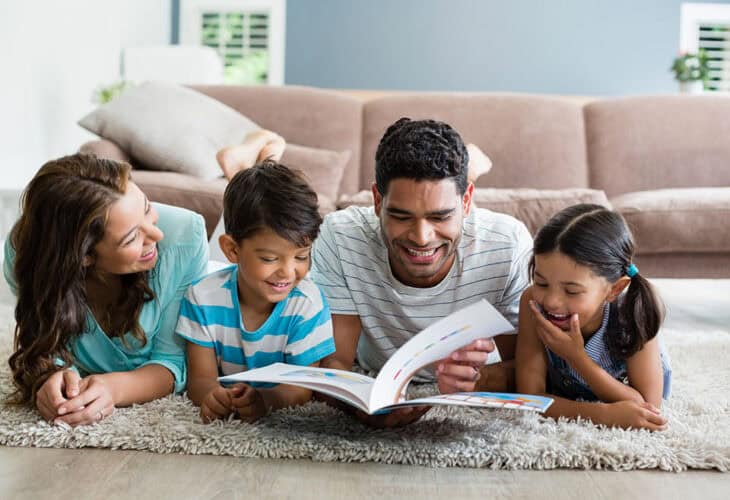 November is National Family Literacy Month, and it's the perfect time to drive home the importance of reading for your family. By reading with your kids, you can help foster a love of reading from an early age. There are dozens of things you can do to promote literacy at home whether you're reading story books together or are looking for ways to encourage your kids to read on their own. Here are a few ideas.
1. Join a Book Club
Joining a book club is a great way to introduce yourself and your children to different types of stories and discover authors you otherwise may never have found in the first place. Start one with your friends, contact your public library to see if there are any ones in your area, or join an online book club and make friends across the country. Whatever you choose, you'll be able to discuss the books you read and foster relationships with people who share your passion for literacy and reading.
2. Read Something as a Family
Consider starting a family reading group. Choose a book on a subject that everyone is passionate about and read it together. You can discuss what you read over dinner or as an alternative to watching television in the evening.
If you're not sure where to start, ask your child's teacher for ideas. They'll be able to give you a list of age-appropriate books that you can read together. You can also rely on your local librarian for recommendations for new authors, new genres, and new releases as soon as they come out. They're the experts and will be able to point you in the right direction far more effectively than any online suggestions.
3. Write Letters to Friends and Loved Ones
Why stop at reading? You can promote your kids' literacy by encouraging them to write things, too. The easiest way to do this is to start writing letters to friends or loved ones. It doesn't matter how close to home they are—everyone loves to receive mail. Writing letters will give everyone much-needed practice and can even help your kids improve their spelling and grammar skills.
If you're looking for ways to enrich your child's in-school education, letter writing can be an easy technique to help them learn about other parts of the country or across the globe. Help them safely connect with a pen pal and let them develop a new friendship that way.
4. Go to the Library
One of the best things you can do to boost literacy and improve reading comprehension is to visit your local library often. Libraries don't just supply the community with books. They also have programs that allow you and your family to participate in learning games, offer books in a variety of different formats, and let you check out the latest releases all for free.
That means your kids can experiment with different genres of children's books and tackle stories at more challenging reading levels without forcing you to spend tons of money.
5. Learn a New Word Each Day
Expanding your vocabulary can be useful whether you're in first grade or hold the terminal degree in your field. As a family, crack open the dictionary and pick a word for the day. Read the definition with your kids and help them figure out how to pronounce and use the word in a sentence. Then, see how many times you can each use the word in conversation that day. This will help develop creativity and will help your child learn how to use the dictionary to look up unfamiliar words that they encounter while reading.
If your child prefers looking things up online or you don't have access to a physical copy of a dictionary, head to Merriam-Webster online. The online dictionary is easy to use and even has word games and quizzes that your child can play for free.
6. Have a Book Swap
This takes a bit of coordination, but it can be tons of fun especially if you have younger kids. Get a hold of your friends with children and see if they'd be interested in doing a book swap or book exchange.
Everyone gets new books. No one spends a dime!
Or get your whole neighborhood involved by setting up a Little Free Library book exchange. Put a small container by the sidewalk with a sign that encourages people to take a book and leave a book. Old mailboxes, birdhouses, crates, and even plastic-covered garden shelves can work to protect the books from the elements. If you're handy, you can find plans to build your own Little Free Library to install on your property. Just make sure whatever you choose is permitted by your neighborhood or homeowner association.
Celebrating Family Literacy Month Should Be Fun
By making reading a regular activity for your kids, you'll help build a love for literature at an early age. But a passion for reading isn't the only thing you'll want to teach them.
Learn how to help your child become financially literate here.
This content is provided for general information purposes only.