7 Ways to Make Learning Fun This Summer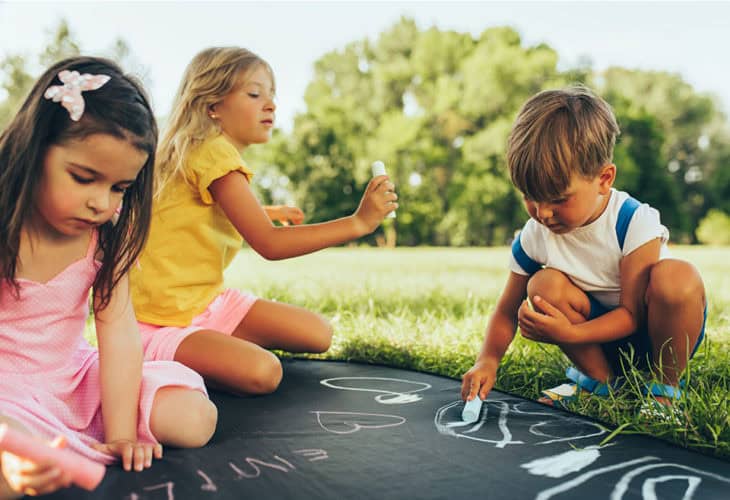 Summer: It's the season of family vacations, sleepaway camp, and neighborhood barbecues. But this year, as new safety concerns and social distancing guidelines are on everyone's mind, many families have had to change some of their summertime plans.
Even though you may be spending more time at home in the next few months, you can still make sure your kids are having fun, and continuing to learn, all summer long. All it takes is a bit of creativity. Here are some ideas.
1. Keep Your Kids Learning
Even if it's less formal than during the school year, providing ongoing summer education is important, especially given the challenges that families faced at the end of this school year. Here's what you can do:
Follow a schedule. Add structure to your child's day by creating a routine and a specific timetable for learning activities. Young children in particular benefit from the stability of a summer routine.
Explore subjects of interest. If your kids are younger, help them explore a new area of curiosity each day. From local wildlife to outer space, you'll find plenty of kid-friendly online resources to ignite their curiosity.
Visit your library online. Many libraries offer online content like e-books, audiobooks, and educational movies. Also, read every day—a great practice for kids (and adults) of all ages.
Make screen time educational. While you don't want your kids spending their whole day glued to a tablet, you can help them make the most of the time they do spend in front of a screen. In lieu of typical cartoons and games, try these STEM-related online activities or, for younger kids, educational games through PBS Kids.
2. Visit Museums Virtually
While many museums and attractions may be closed over the summer, you can still visit many of the best museums, zoos, and aquariums through virtual tours, games, and other interactive activities for kids. Here are a few of our favorites:
3. Be Creative
Summer is a great time for your kids to find a new hobby or creative outlet, from painting and drawing to photography, model building, or playing a new musical instrument. There are plenty of YouTube videos that can help your child learn (parental supervision recommended). If your child is younger, try out these recipes for homemade playdough or kinetic sand.
4. Get Cooking
Learning to cook promotes healthy eating, boosts self-confidence, and helps kids improve their fine motor skills. Find some simple recipes you can complete together. Not only is cooking a great bonding experience, but it can help your child practice reading, learn basic math skills, and express themselves creatively.
5. Head Outdoors
Even if it's just a walk around the neighborhood, you can make outdoor time more engaging and educational for your child by taking time to talk about the plants and animals you see, turning your walk into a scavenger hunt, or collecting "treasures" that can later be used in an art project.
Ask your child questions about the things they discover, and help them find answers. Kids are naturally curious; sometimes, all they need is a little nudge.
Another great outdoor activity? If you own a tent and the weather's right, treat your kids to a backyard campout.
6. Teach Life Skills
Kids pick up some of their most valuable skills at home. Depending on your child's age, now may be a great time to teach essential skills they may not learn in the classroom, such as how to do laundry, conversation skills and social etiquette, kitchen safety, basic first aid, or how to sew or use certain tools (parental supervision recommended). Skills like these will serve them throughout their lives.
7. Boost Their Money Skills
Summer is also a great time to support your child's money management skills. Take this opportunity to plan some financial literacy activities for kids at home, such as teaching them to save and budget their allowance or set age-appropriate financial goals. If they're older, show them how to manage a checking account or how credit works.
It's never too early to start teaching your child to save, and BluPeak Credit Union can help you open your child's first savings account. With a low minimum deposit and no monthly fee, a Youth Savings Account1 from BluPeak Credit Union could be a great first step for your child's financial journey. Learn more here.
1. Designed for minors under age 18, using the minor's tax identification number. A person of majority age must also be joint on the account.