Impress Your Friends With Your California Knowledge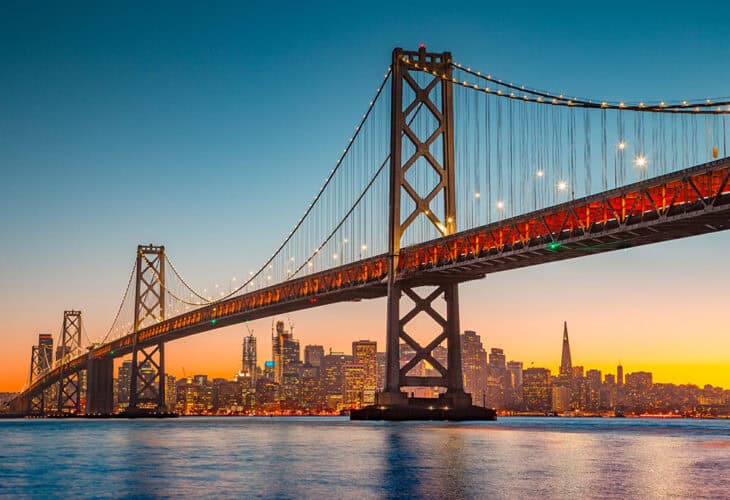 Happy birthday, California! Our home state became the 31st state on September 9, 1850. In honor of the Golden State's anniversary month, we've compiled some fun facts for you to check out. They may come in handy during your next trivia night!
The state motto, "Eureka," has appeared on the state seal since 1849 and means "I have found it," most likely referring to the discovery of gold.
In 2013, California's Lt. Governor designated the avocado as the state fruit. California is by far the biggest avocado producer in the nation, and San Diego County is its avocado capital—responsible for about 60% of all the state's avocados. The Hass avocado is the most common type of avocado grown in the state. If you're getting bored of avocado toast (impossible!), here are some delicious new avocado recipes1 for you to try.
San Francisco's cable cars, named the first moving National Historic Landmark in 1964, are the only ones still operating in the U.S.
General Sherman is the world's largest living tree—in fact, the world's largest living thing—and can be found in Sequoia National Park. The giant redwood is over 275 feet tall, weighs over 4 million pounds, and is estimated to be about 2,500 years old.
Computers talking to each other? That started here too, in 1969. Using ARPANET™, a precursor to the modern internet, computer scientists were able to send the internet's first message from one computer at UCLA to another one at Stanford!
California is by far the most populated state, with one out of every eight U.S. residents living here. With 39 million people, California's population is greater than the 22 least-populous states combined!
If you want to talk money, California's economy—the largest of any state—is quite impressive as well. Based on its gross domestic product, if it were its own country, California would be the fifth largest economy in the world (between Germany and the UK).
The Hollywood Bowl in Los Angeles is the largest outdoor amphitheater in the United States. Known for its iconic band shell, it has been the premier destination for live music in Southern California since it opened in 1922.
Another nickname for California is the "Grape State." The vast majority of U.S. grapes are produced here, along with over 17 million gallons of wine each year.
California is home to both the highest and lowest points in the continental U.S. Mount Whitney in the Sierra Nevada is the highest mountain, with an elevation of 14,495 feet, and Badwater Basin in Death Valley National Park is 282 feet below sea level. Both locations are within 100 miles of each other!
We hope you enjoyed reading these California fun facts. We love it here, and we love serving California's many diverse communities. Before you go, here are some quick facts about your California-based community credit union:
BluPeak Credit Union was founded in 1936 as the "California State Employees Credit Union #17."
In 1971, we changed our name to University and State Employees Credit Union (BluPeak Credit Union).
BluPeak Credit Union currently serves more than 60,000 members in California and throughout the country.
We transform lives by making dreams happen!
1. It is the reader's responsibility to determine the ingredient safety, and safety of the preparation instructions. BluPeak Credit Union in no way provides any warranty, express or implied, towards the content of recipes or the outcomes from consumption.
ARPANET is a trademark of ARPANet Srl. HOLLYWOOD BOWL is a trademark of Sweetgreen, Inc.
This content is provided for general information purposes only.