Budget-Friendly Ways To Eat Healthy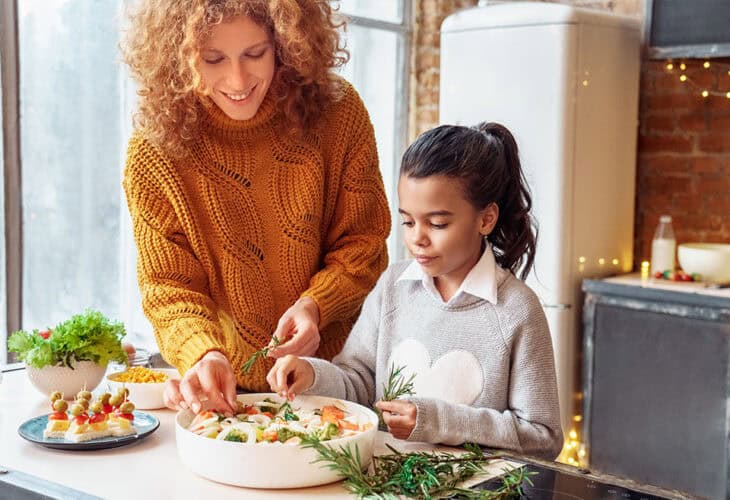 If you've been to the store lately, you've probably already noticed: Food prices are going up. In some cases, way up.
True, inflation happens, and many different factors can cause prices to soar for a variety of goods. But when it comes to meals, the effect can be especially significant. With average year-over-year food prices up roughly 3%, it can be more difficult for some families to afford nutritious, quality food.
You don't need to resort to low-quality fast food or cheap, highly processed grocery items, which are often high in sugar, saturated fat, and sodium. Here's what you can do to save on groceries, so you can eat healthy on a budget.
Plan Meals & Shop Wisely
Create your weekly grocery list with nutrition in mind, then stick to your list at the store. Here's one tried-and-true method to avoid overspending or grabbing that candy bar by the register: Never go food shopping on an empty stomach! Grab a piece of fruit or other low-calorie snack before you leave your home.
Cook at Home for Healthy Eating
Take a little time in the morning to pack a sandwich and apple for lunch at work instead of picking something up while you're out. Over time, this can lead to huge savings.
It's been said you can feed a family of four at the same cost as buying a meal for just one or two people at a restaurant. Given that a moderate food budget for a family of four can be around $1,100 per month, relying more on your kitchen is a crucial way to cut spending. Plus, home-cooked meals give you more control over your menu—and how healthy your ingredients are.
Make More, Waste Less
Unless you really love to cook, chances are you don't want to spend too much time in the kitchen. Make meals in larger batches and refrigerate or freeze the leftovers. Don't feel like cooking tonight? No problem: You already did.
Cut Down on Processed Foods
Highly processed foods like white bread, breakfast cereal, or microwave meals are often less healthy than meals created with whole foods like whole grains, beans and legumes, nuts, and fruits and vegetables. But it's not always true that processed food is cheaper. In fact, many less-processed foods are sold in larger quantities, making them more economical.
Pick the Store Brand
Many large grocery chains carry generic brands that are significantly cheaper than the name-brand version of the food item. Just double-check the ingredients list to make sure you're getting the same quality.
Find Your Go-To Groceries
When you're at the store, there are certain staples you can count to provide important nutrition at a lower price. A few examples of items that help you eat healthy on a budget: canned tomatoes, oats, beans, tuna fish, and even popcorn.
Get Your Protein
It's an essential part of your diet, helping with things like building and repairing muscles as well as many other functions. But a popular source of protein, meat, can be expensive. Get creative about how you get your protein. Shop for cheaper cuts of meat or ground poultry, or rely on other protein sources like canned tuna, legumes, and eggs.
Eat Your Fruits & Veggies
The produce section of your grocery store (or your local farmer's market!) can be a great place to stock up on healthy, versatile ingredients for family meals. Compare prices and choose items with less processing or packaging to get more for your money. For example, your money goes further when you buy a head of lettuce versus pre-chopped salad mixes or a couple of pounds of large carrots instead of peeled baby carrots.
Also, know what items are in season (and can be shipped from local sources). Plan your meals and shopping trips accordingly to get the best deals.
Bulk Up & Stock Up
Have a membership at a wholesale club or online retailer? This could be a great source of healthy foods in larger quantities. Load up your pantry. Many people have invested in a standalone freezer too, which helps them take full advantage of bargains on frozen staples.
This also goes for produce items you can't use right away, but don't want to go bad. Frozen fruits and veggies are basically as nutritious as the fresh kind and lend themselves to all kinds of great meals, from a healthy breakfast smoothie to a delicious stir-fry, easily and affordably. It's great to have frozen fruits and veggies around when you need them, particularly when they're out of season.
Want More Tips?
Check out the USDA's resource center, MyPlate, for lots of other information about nutrition, meal planning, and eating healthy on a budget.
If You Can, Support Your Local Food Bank
As food prices have soared, food banks across the country have struggled to meet the demand for their services. If you're able to help, even a little bit, please do. Our members in the San Diego area can help us support Feeding San Diego, and you can locate other California food banks here.
This content is provided for general information purposes only. It is the reader's responsibility to determine nutritional value, ingredient safety, and the safety of any preparation instructions. BluPeak Credit Union is not responsible for the content of linked food resources or the outcomes.