Back-to-School Shopping on a Budget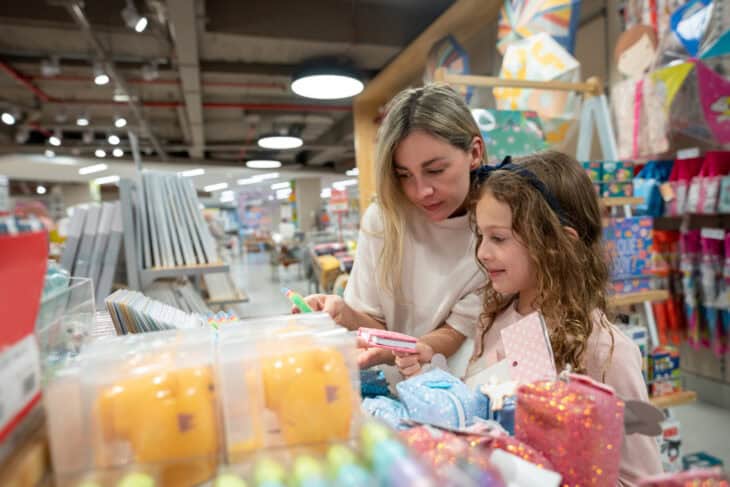 School's back in session. Can I get a woop woop? Even kids are excited — if not at the prospect of more structured days, for sure about reconnecting in-person with friends. Unfortunately, the back to school hit to family budgets can be significant. In fact, according to the National Retail Federation TM, 84% of families expect the inflation that's been eating away at our purchasing power for many months will also show up in higher prices for everything from school clothes to electronics. On average, families with children in elementary through high school expect to spend $864 on school items.
While there's no getting around the need to come up with the cash for some school-related items, these tips for back-to-school shopping on a budget can help make your cash go farther.
Money-Saving Tips for Back to School
It pays to have a shopping strategy. That starts with setting a spending limit and making a list of must-haves for each child, which can help you avoid impulse buys and also make sure you don't miss any key items. Here are some other things to consider.
Ask the teacher. Take the guesswork out of what will be needed in the classroom by asking each child's teacher if they've created a shopping list or have guidance about what will be needed for school assignments.
Shop your closet. Before spending a cent, take inventory of what you already have. Highlighters, notebooks and other basics you find stashed in closets and desk drawers are items you can forego buying now, while money's especially tight.
Spread out your spending. Take a hard look at what your child needs right now, and what can wait until later in the school year. This is a particularly good idea for clothes, because growth spurts
Consider gently-used items. For college-bound students, buying used textbooks is a no-brainer. Also consider digital textbooks, which can be half the cost of hard copies.
Focus on neutrals or a color scheme for each child. Lots of retailers are offering great deals on clothing, but that's no reason to spend more than necessary. You can get away with fewer items if you make sure that everything mixes and matches, either by choosing neutrals and compatible colors, or by creating a capsule wardrobe for each child.
Shop clearance sales to stock up for next year. Kids are gonna grow, so when taking advantage of the big markdowns, leave clothes on the rack and instead opt for size-less standards like backpacks, binders, craft supplies, pens, and such.
Best Places for Back-to-School Shopping
Wish we could say there's a one-stop shop for all your back to school needs, but to get the best deals on everything you're going to need to shop around. Here's how.
Start online. You may or may not find the best deals at an online-only shop like Amazon TM, but you can definitely compare prices with them and other popular retailers like Walmart TM and Old Navy TM. Bonus tip: download your favorite stores' apps, and cash-in on some deals only offered to app users. Target Circle TM is a fan favorite.
Shop your local dollar store. Sure, you'll have to sort through lots of junk, but you're likely to find many basics super-cheap.
Try thrifting. If you haven't been to a Goodwill TM, consignment store or other used merchandise retailer lately, you're missing out. These days, items in really poor condition tend to be recycled rather than sold in stores or online.
Check garage sales. Other families' budgets are also getting the squeeze, so keep an eye out for garage sales and Facebook TM Marketplace deals.
Explore BluPeak Credit Union's Discounts on Fun options. Back to school and the costs that go with it don't mean you have to put the kibosh on all the family fun. BluPeak Credit Union members can sign up for TicketsatWork® for deep discounts on entertainment like top theme parks. You can also find great deals on leading brands of electronics, apparel and more.
As always, your kids are watching to see how you cope with day-to-day financial challenges. So, take the opportunity offered by back to school shopping to involve them in the process of comparing prices and making shopping choices. It's another great way to teach smart money skills.
This information and related links are being provided for informational purposes only and as a convenience. Links to external resources do not constitute an endorsement or an approval by BluPeak Credit Union. Must meet membership and account criteria.
National Retail Federation is a trademark of National Retail Federation, Inc.
Amazon is a registered trademark of Amazon.com, Inc.
Walmart is a registered trademark of Walmart, Inc.
Old Navy is a registered trademark of Gap, Inc.
Target Circle is a registered trademark of Target Brands, Inc.
Goodwill is a registered trademark of Goodwill Industries International, Inc.
Facebook is a registered trademark of Meta Platforms, Inc.
TicketatWorks is a registered trademark of Entertainment Benefits Group, LLC