Online Personal Budgeting Tools You Need to Know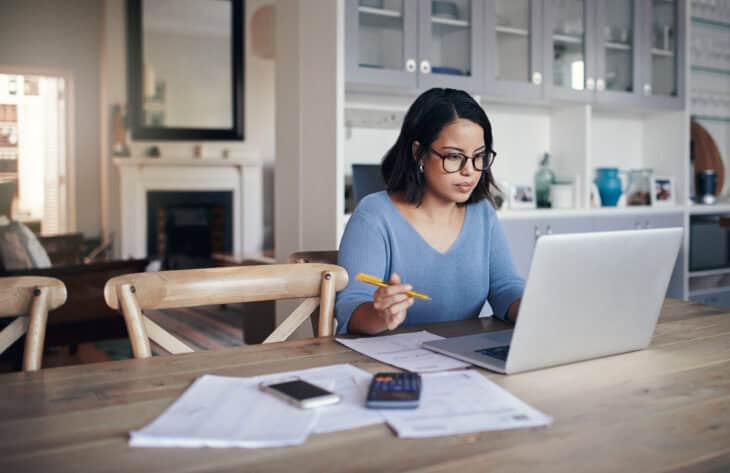 The crazy high inflation we've all been experiencing recently has convinced even some of the most budgeting-averse among us to try to change their ways, in hopes of offsetting higher costs for everything from food and fuel, to rent and travel. The great news is that getting a solid handle on your personal budget now will pay big dividends long after today's inflation is in our rearview mirror.
But what's the best way to start a personal budget?
For many, online is the answer. But tons of options exist, so we break it down here, sharing some of the most popular online personal budgeting tools—along with tips on how to start your own personal budget.
How to start a personal budget
An online-budgeting tool can be really useful for identifying and categorizing all of your income and spending. But the basic principles of personal budgeting are old school, and don't require new tech.
A budget is nothing more than a spending and savings plan, where you specify all your sources of income on one side of the "ledger" and list all of your essential and discretionary expenses on the other. Because most of us don't have unlimited funds, budgeting is crucial for figuring out how much we can set aside each month for financial goals like building an emergency fund, paying down credit card debt, buying a car, and saving for retirement.
Whether or not you decide to use an online tool, this downloadable budget worksheet from BluPeak's financial-counseling partner GreenPathTM provides a simple way to tally up your income and expenses and see where you stand.
Personal budget tips
Hopefully, when you add up what you earn and what you spend, some money will be left over at the end of the month for your bigger financial goals. If not, or if there's not enough to reach the financial goals you've set, a personal budget – call it a spending plan – is a crucial tool for getting ahead.
Best Personal Budgeting Tools
Money Management
We'd be doing you a disservice if we didn't begin with BluPeak's own Money Management, a free tool that members can access through either online banking or our mobile app. Set a budget, track financial goals and spending in various categories, and link all of your accounts to get a complete picture of your personal finances. It's super-simple to use and convenient, especially if you're already using one of our digital options for day-to-day banking and bill payment. You won't be bothered with pesky third-party advertisers trying to sell you stuff, and if you decide you don't want to keep it up, you won't have shared your private financial information with any other entities.
Mint
Around since 2006, Mint® was purchased by the financial-software giant Intuit® in 2009 and claims over 30 million users. So, if you're looking for the popular choice, Mint is probably it. And it's free, though, you will have to wade through ads and offers from Mint's partners, which may or may not be good deals for you. But Mint has a lot going for it, and is a solid all-around choice that's easy to use. The app was one of the first to enable users to link all their accounts in one place and track spending. It also offers a robust suite of tools, calculators and tips, along with a bill negotiator called Billshark® that aims to lower your payments on phone, cable and a handful of other services. Note: When Billshark negotiates for you, it takes a hefty bite out of any savings it identifies for you.
Goodbudget
The niche GoodbudgetTM has carved out for itself is families and couples sharing a budget and finances. The idea is that you create a budget together, separating the month's income into virtual "envelopes" in the app, and linking your financial accounts. You both spend out of those budget-category envelopes, ideally stopping each category of spending when there's nothing left in that envelope. Because all your transactions are categorized and synced across your mobile devices and the web, it can be especially useful for keeping couples on the same page financially and helping to prevent overspending. The hitch, of course, is that since Goodbudget's envelope-style system doesn't use actual cash, it can't actually prevent overspending. You can get a stripped-down version for free, and upgrade to the $8 per month (or $70 annually) version if you like it.
YNAB
YNAB®, a.k.a. You Need a Budget®, is a different type of personal-budgeting tool. While most others are fairly simple and undemanding, YNAB's premise is that users need to completely reorient their thinking about budgeting. Basically, it asks you to give each dollar you earn a "job" at the beginning of the month – and then seeks to hold you to it – so you don't overspend. The app has some huge fans—the term "life-changing" has been thrown around. But the approach may not be ideal if you can't devote a significant amount of time to the YNAB process. Plus, after the 34-day free trial, you'll pay $14.99 a month or $99 for the annual plan—not a tiny amount, so you'll want to be sure it fits your lifestyle. Also, if you're a gig worker, or are someone whose income fluctuates a lot, YNAB could be challenging to implement.
PocketGuard
Similar to YNAB, PocketGuardTM is really focused on giving you tips and alerts as you go, in hopes that real-time financial tracking will help you avoid overspending. Unlike YNAB, PocketGuard offers a free version, though it doesn't offer access to premium features like the ability to create your own spending categories. One criticism that hopefully will be addressed soon is the lack of clear terms about the cost for PocketGuard Plus TM. Currently, it appears to be $7.99 a month or $79.99 for the annual plan, or $99 for a lifetime membership.
Ready to create your personal budget?
Click here to download BluPeak's mobile app and access our Money Management tool. Also, visit our Financial Education & Counseling page for a full range of free, easy-to-use resources – like cost calculators – to empower you to become a boss budgeter in no time.
This information and related links are being provided for informational purposes only and as a convenience. Links to external resources do not constitute an endorsement or an approval by BluPeak Credit Union. Must meet membership and account criteria. Mobile and data rates apply when using mobile banking.
GreenPath is a trademark of GreenPath, Inc. Mint and Intuit are registered trademarks of Intuit, Inc. Billshark is a registered trademark Hopkins Group Holding, LLC. Goodbudget is a service of Dayspring Technologies, Inc. YNAB and You Need a Budget are registered trademarks of Steine, LLC. PocketGuard and PocketGuard Plus are trademarks of PocketGuard, Inc.