What to Know Before Getting a Credit Card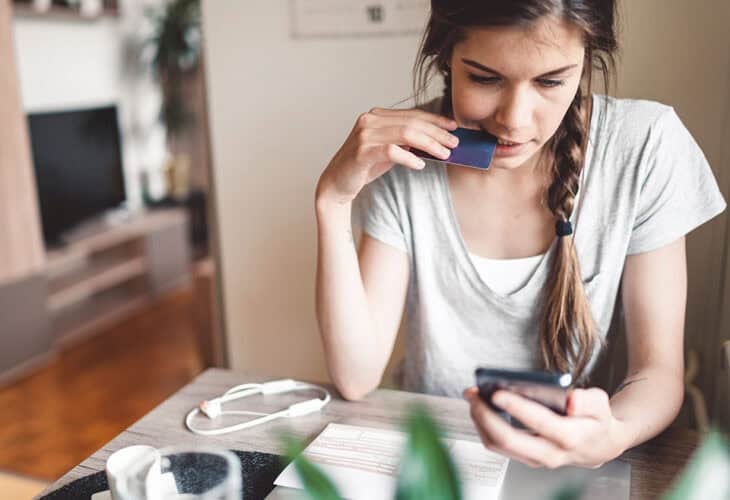 When it comes to paying for stuff, let's face it – nothing beats the convenience of a credit card. In fact, in a recent study 84% of consumers said having the option to pay by credit card is a must-have or nice to have. Still, it can be easy to get into financial trouble with credit cards if you don't do your homework. So, read on to find out what you need to know before getting a credit card.
Credit Card Basics
Responsible credit card use can be a big factor in building a solid credit history, but the opposite is also true. If, for example, you borrow too much by maxing out your credit limit, or are late with payments, it'll cost you big – in finance charges, late payment fees, and a damaged credit rating. So, here are some key terms you'll want to understand:
Credit Limit – Whether from one big purchase, or several smaller purchases, this is the total amount you can borrow from on your card at any given time.
APR – The Annual Percentage Rate is the interest rate you'll be charged to carry a balance on your credit card. Generally, the stronger your credit, the lower your APR.
Balance – This is the amount owed on your card. To avoid finance charges, pay off your balance each month.
Minimum Payment – If you don't pay off your balance, this is the smallest amount you must pay to keep your card in good standing. It's always a good idea to pay more than the minimum.
Annual Fee – It's smart to shop around for a credit card, since some card issuers charge annual fees in the hundreds of dollars.
When Should You Get a Credit Card?
It takes time to build the strong credit history you'll need to qualify for the lowest rate credit cards and other loans, so it's smart to start early.
You can't get your own card until age 18, but you can be named as an authorized user on a parent's credit card which can kickstart your credit history. The key here is to only become an authorized user on the card of someone with a solid credit track record since any information – positive or negative – will be reported on both the cardholder and authorized users' credit reports. So, for example, if parents have a high credit utilization rate or aren't diligent about timely payments, the child's credit score will also take a hit. The upside, however, can be huge. One survey showed those with bad credit boosted their scores by 10% just 30 days after becoming an authorized user.
If the folks don't want to make you an authorized user on their card, they might be willing to co-sign for your first credit card. They're still on the hook for paying the bill if you were to default on the card, but it's an option that gives you a card in your own name.
Other Ways to Start Building Credit
Don't have a family member with good credit who's willing to co-sign or make you an authorized user? There are lots of other ways to start building a credit history. Basically, you need to demonstrate that you can pay your bills on time and otherwise be responsible with credit.
You can do that by taking out an auto loan to buy your first car, and be obsessive about making your payments on time. Or you might apply for a small personal loan, and then pay it off on time.
A savings secured credit card is another smart choice if you have some savings, but no credit history. Basically, the funds in your savings account act as collateral for your credit limit, so the interest rate tends to be very low.
Having a phone plan, utilities or streaming service in your own name may also be a great option. For example, Experian's free Experian BoostTM program gives you credit for your on-time payments of these types of common bills.
Ready to Get a Credit Card?
Click here to find the BluPeak Credit Union Credit Card that's right for you, and to apply online.
We Can Help
As a member-owned financial institution, BluPeak Credit Union is committed to helping our members achieve their financial goals. We're proud to offer access to a financial wellness program offering free webinars and online courses on many different financial topics, as well as access to confidential credit counseling services through GreenPath Financial Wellness.
All loans subject to credit approval. Must meet membership and account criteria. This information is provided for educational purposes only and is not intended to be financial advice.
Experian and Experian Boost are trademarks of Experian.