5 Ways to Cut Your Holiday Spending (and Stress)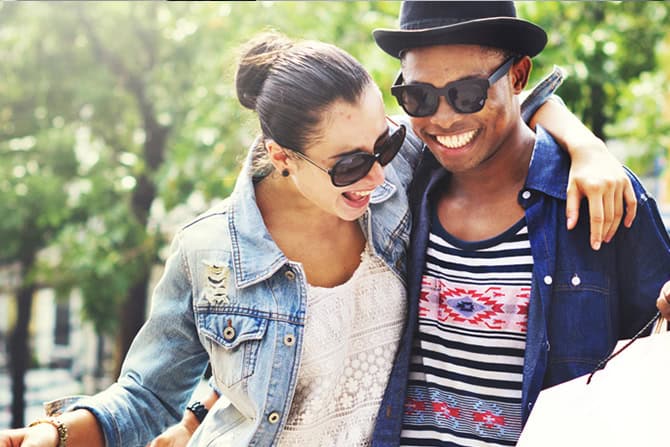 No matter how you celebrate the holidays, there are probably a few things you can count on: big fun, big meals—and a big price tag.
Want to enjoy the season without overspending? You're definitely not alone. According to the National Retail Federation, the average American shells out more than a grand over the holidays. As a country, our holiday shopping bill for 2019 is expected to reach about $730 billion, give or take a couple billion.
All that gift-giving, traveling, and entertaining can make for great holiday memories, but no one wants to start 2020 with too little cash or too much debt. If you're looking to spend less, and enjoy the holiday season more, here's what you can do.
1. Shop Well, Eat Well
Is it your turn to host Thanksgiving? Here's how you can keep meal planning from eating away at your budget:
Use an online grocery shopping service. For a nominal fee, one of these services can help you save time and shop from the comfort of home. It could be especially helpful when planning your Thanksgiving menu, since you can compare prices, avoid multiple shopping trips, and keep an eye on your grocery bill to help you stay within budget.
Shop at wholesale clubs. Have a lot of mouths to feed? Buy in bulk and save big.
Opt for low-cost cooking. Trying out new recipes can be fun, but some extravagant recipes call for pricey or hard-to-find ingredients. Choose recipes with low-cost ingredients or, best of all, ones you already have in your pantry.
Make it a potluck. It's less spending and work for you and more fun for everyone.
2. Plan Your Gift-Giving Audience
There's nothing like watching a loved one's face light up when they open that perfect gift. But spreading holiday cheer shouldn't come at the expense of your finances. Here's what you can do:
Set budgets. Set a gift-buying budget and stick to it. It's helpful to create your shopping list early and set price limits for each person on the list. There are lots of free gift-list apps that can simplify this process and help you stay on budget.
Set expectations. Getting gifts for the kids is probably mandatory, but shopping for your fellow adults? That could be optional. If you and others don't feel it's important to receive gifts, you can mutually agree to take each other off your lists. The time and money you'll save may feel like the best gift of all.
Monitor your spending. BluPeak Credit Union's Mobile Banking App and Money Management tool make it easy to track your spending and account balances in real-time.
3. Look for Deals, but Do Your Homework
It's the season of big spending, and retailers will do what they can to capture more of your hard-earned dollars. But are those holiday doorbusters worth braving the crowds at the mall? Here's what we recommend:
Research Black Friday and Cyber Monday deals. Not all sales are as good as they seem. Timing is everything, and sometimes, you can find an item for less money earlier or later in the season.
Don't forget Small Business Saturday. Held the day after Black Friday, it's the perfect opportunity to support locally owned stores near you. You can often find unique gifts that the mall won't have.
Save on Free Shipping Day. On December 14, more than 1,000 popular online stores will offer free shipping and guaranteed delivery by Christmas. See where you can shop on Free Shipping Day 2019.
4. Buy Last Year's Model
From electronics to sneakers to talking stuffed animals, nothing drives up costs like hype. This is especially true of new electronics like smartphones and video games. For example, the price of an iPhone can drop significantly as soon as a new model hits store shelves. When it comes to gifts like these, being a little late pays off.
5. Turn Credit Card Rewards Into Gifts
If you've been earning rewards points all year, the holidays could be the perfect time to redeem them for the gifts your friends and family want. This means you can check names off your list without spending an extra dime.
Make the Holidays Extra Rewarding
Use our BluPeak Credit Union Platinum Mastercard® for your holiday purchases and start earning big rewards like gift cards, travel, electronics, and more.
LET'S DOUBLE YOUR REWARDS
From November 1 through December 31, 2019, our members can earn twice the rewards points on all their Platinum Mastercard purchases. Learn more and start earning 2x rewards points right now!
Mobile and data rates apply when using Mobile Banking.