How to Have a Conversation About Money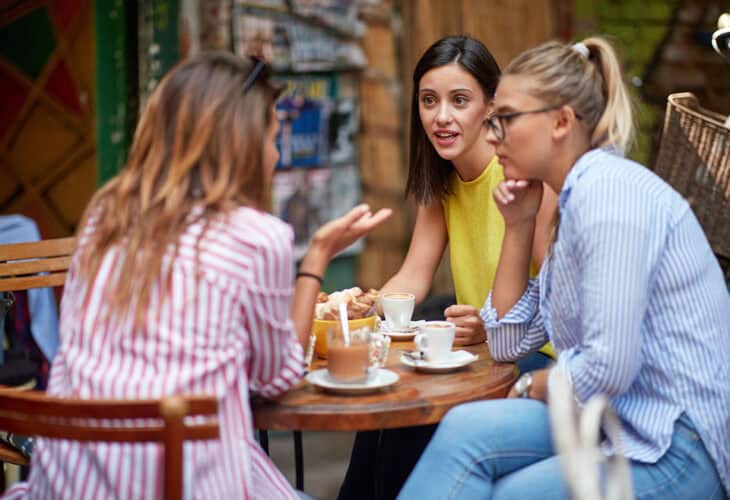 And just like that. You're chatting with your pals about celebrating somebody's birthday and plans that start as simple cake and cocktails morph into a weekend of wine tasting and spa treatments. Something that extravagant isn't in your budget, but you're too embarrassed to say so – thinking you must be the only one struggling financially.
The truth? You're probably not the only one, but nobody speaks up because of outdated ideas that make us ashamed to be honest about our financial circumstances. Sadly, that can cause us to mess up our budgets and miss out on opportunities to deepen our friendships by bonding over financial concerns.
Why is it taboo to talk about money?
After all, everybody (yep, even that friend you think is rich) has financial concerns, and we can learn from one another's smart money moves as well as the occasional not-to-be-repeated money mistakes. When friends talk about money, it can enhance trust and deepen relationships. And, when we're more transparent with close friends about our financial boundaries, we can also better support one another in pursuing our financial goals.
Getting the money conversation started.
So, upending the taboo about money talk is a good idea, but where to start? Here are some tips to end the awkward and get comfortable with financial chats among good friends.
Ease into it. Rather than jumping in with pointed questions like "How much do you make?" look for natural openings, like when you're talking about trying a new restaurant or shopping for a big purchase. For example, you can raise the issue of finances with something like "I'd love to get an ABC, but I can't afford it" or "Dinner at XYZ is pretty pricey – what do you think about trying their happy hour instead."
Be honest. You probably don't want to share all the specific details of your finances, at least not right away, but opening up about your own financial journey encourages others to reciprocate. Maybe your "budget buddy" can clue you in to what she learned when buying a car recently, while you can share what you learned in your company's recent health insurance workshop.
Ask for advice. Especially when you first begin having money convos, asking your friends how they'd recommend you handle a money challenge can help to get the ball rolling, without requiring your friend to discuss their own situation before they're ready. You might, for example, ask "I just qualified for the company 401 K and the choices are confusing. Any advice on how to pick the right investments?"
Respect boundaries. Like other sensitive areas, each person has a right to decide how far they want to take the money conversation. But one of the great things about introducing money talk in your trusted friendships is the mutual support it can provide as you problem-solve and cheer one another on to reach financial goals.
Avoid comparisons. Money convos need to be judgement-free zones. Resist the jealousy that can arise when you learn that a friend makes a lot more money than you, and keep your cool if that friend confides that his biggest financial challenge is how to pay for his next big vacay.
Be a resource.
A supportive circle of "money-safe" friends can be an especially valuable resource for early-career professionals, because it can also open the door to conversations about related topics like compensation packages, salary negotiations and employer-paid health insurance ("Um, what's the difference between a co-pay and a deductible?").
You can also help one another by sharing insightful financial books and podcasts. Remember, as a BluPeak Credit Union member, you've also got easy access to a full range of free online financial education resources you can share with your friends. Topics cover everything from credit scores and getting out of debt to the basics of investing, and more.
Share the credit union love.
We feel pretty strongly that having the right financial partner can make a big difference, too, so we encourage members to share the love and bring more members into the BluPeak Credit Union family. In fact, with our Refer a Friend program, every time you refer a friend and they open a BluPeak Credit Union Free Checking Account with eStatements, you'll both get $100.1
This information and related links are being provided for informational purposes only and as a convenience; they do not constitute an endorsement or an approval by BluPeak Credit Union. Must meet membership and account criteria.
1. To qualify, the referring member must be an existing active BluPeak Credit Union member in good standing, the referral must have been submitted through the BluPeak Credit Union SpreadtheLoveBonus.com microsite during the promotional period, and the new referred member account must meet all of the program eligibility criteria. Referred members must be new members and meet membership eligibility and account opening criteria, set up at least $500 in monthly direct deposits in their name that are new to BluPeak Credit Union within 90 days of account opening and maintain the new account in good standing for at least 90 days. If eligible, the deposit account bonus ($100 each for you and the person you refer) will be credited to the respective BluPeak Credit Union accounts within 30 days after the account has been open for 90 days and remains in good standing. Must be 18 years of age to participate. Referrals subject to verification. All related individuals may no longer qualify for this promotion and may not receive the bonus if, in BluPeak Credit Union's sole discretion, they are linked to an unqualified referral or misuse of the program. Bonus payments subject to tax. Cannot be combined with other offers.