Frightfully Good Tips for a Budget-Friendly Halloween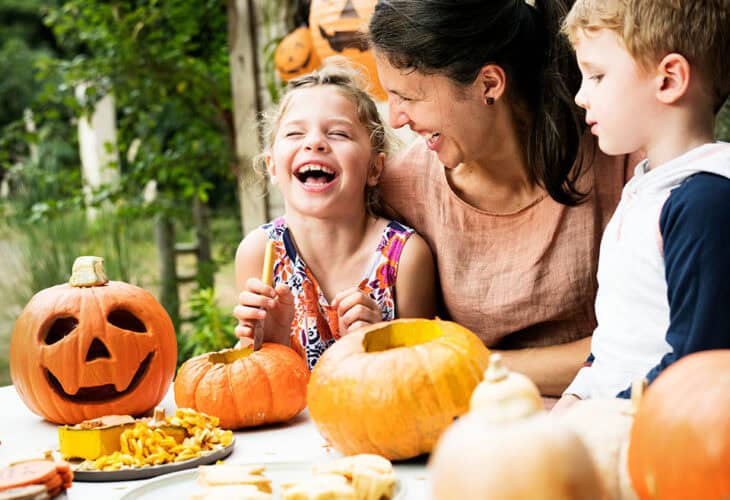 Halloween can be frightfully fun, but all those costumes for the kids, decorations for the house, and treats for the whole neighborhood can turn expensive fast.
Fear not! With a bit of planning and a touch of creativity, you can make this year's Halloween a blast while protecting your budget.
Carve Out a Budget
Having a good time on Halloween should start with a budget. Decide how much you can spare and stick to that amount. Staying on budget may mean you have to make some tough choices, like choosing a couple of smaller lawn decorations over the single deluxe light-up decoration.
When shopping for a Halloween party, make a list and stick to it. Try to find coupons or sales for the things you need, and dollar stores and thrift shops can be a great place to unearth savings on spooky accessories to make your home extra memorable.
If you and your family like setting out freshly carved jack-o'-lanterns to boost a creepy feel, you can save money on your pumpkins, too. It all depends on when and where you buy them. If you wait until right before Halloween, you can often get them at reduced prices from your local grocery store, and you can sometimes get them for a better price than your local pumpkin patch. You may not have quite the selection as you would have had earlier, but the perfect one may be waiting for you.
Need help staying on budget? BluPeak Credit Union's money management tools in online and mobile banking make it easy to keep tabs on your spending.
Buy Halloween Candy in Bulk
Everyone wants to be the "cool" house. You know the one: The place that gives out full-sized candy bars. Unfortunately, this can be costly. A bag of fun-sized candy bars is more cost-effective when you have a lot of trick-or-treaters coming to your door. Consider buying yours from your wholesale club or dollar store to save some money. And don't forget you can always go with healthy alternatives to Halloween candy!
Create Your Costumes
The one thing people spend the most money on for Halloween tends to be the costume. Sure, your kids have grand ideas for what they want to be while trick-or-treating, but it's not always feasible to indulge in something they will wear once. Or, you might want to wear a movie-authentic superhero costume for a party, but you might be on a budget.
Instead, consider making your costumes. Remember, some great costumes for kids and adults can come out of your imagination. For example, put on a nice suit or dress, slick back your hair, pop in some false fangs, and you've got a quick vampire costume. Your total cost? Maybe a few bucks for the plastic fangs.
Cut Costs for the Party
If you're planning a Halloween party or fun activities for your family, there are plenty of low-cost ideas to explore. Find games that you can do at home for a kids party, like sitting in a darkened room telling ghost stories. And don't forget a round or two of Wrap the Mummy!
Hosting a Halloween party for grownups? Ask your guests to bring their best Halloween-themed food. You can pick your favorite scary movie and ask your friends to bring something that ties in with the film.
You can also save money by inviting fewer people over for a horror movie night. Keep it low-key and have fun with a few of your closest friends. Rent or stream your favorite horror flick, grab some quick snacks, and watch the movie in the dark. You can even make a game out of it: Who is the first person to jump in fright? Who screams first?
Turn Household Objects Into Spooky Artifacts
A little creativity can go a long way to turn your home into a house of terror this Halloween. If you're a little crafty and have some paint and extra boxes, you can make a temporary graveyard in your front yard.
Other household items can turn into creepy decor, too, if you're a "boo"-it-yourself. A quick search on the internet can give you some fresh ideas for making bats from toilet paper tubes and construction paper. There are hundreds of ideas out there for turning household objects into the next macabre masterpiece.
Get a Jump on Next Halloween
Right after Halloween, savvy shoppers hit the stores to pick up decorations, costumes, and more for the following year. As stores try to clear out this season's merchandise, they mark things down dramatically, giving you the chance to buy that deluxe lawn decoration you wanted at a much lower price. A word of caution, though: You may have limited options, especially with costumes. Still, it can be an excellent way to get ready for next year.
Remember, any money you save during Halloween can go into a savings account or go toward your holiday shopping in December.
From all of us at BluPeak Credit Union, have a happy—and safe—Halloween!
Must meet membership and account criteria. This content is provided for general information purposes only.