Financial New Year's Resolutions You Can Keep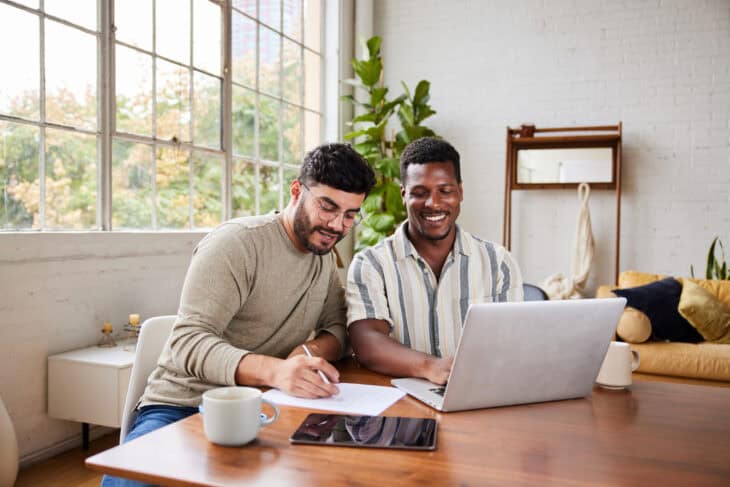 The new year is a popular time to set new goals for ourselves, physically and financially. It's the perfect occasion to hit reset and make personal vows to pick up healthier habits, or when it comes to money, save more and spend less—or at least, spend smarter.
So, with inflation as inevitable in 2023 as that slight sense of wooziness we woke up with on New Year's Day, we offer up three suggestions for resolutions to help ensure your financial wellness—and not just over the next 12 months, but in the years to come.
Create a monthly budget
This one may be a no-brainer. But given that two-thirds of American's say they plan on making a financial resolution in 2023, we feel this one should bubble up to the top of our list like a champagne toast.
Step one: Add up all your income for the month—paycheck, earnings from side jobs, and any interest accrued on your savings. Next, add up all your regular monthly expenses, including rent or mortgage payments, transportation costs (gas, car-loan payments, tolls, transit), food, utility bills, and any automatic deductions for subscriptions or payments. Then deduct that total from the first figure.
Assuming you end up with some money left over, you can now turn to organizing your spending with the 50-30-20 rule, where you spend 50% of your earnings on needs such as food and housing, set aside 30% for things you want, like eating out or sporting events, and then using the remaining 20% to pay off debts or save for the future.
Visit our financial-education page to access resources such as a budgeting worksheet, which we offer through our partners at GreenPath.
Pay down debt
This is one of the biggest obstacles to our financial wellness, especially high-interest debt run up on retail credit cards.
As with any goal, it's better to start small at the outset to make huge gains over the long run. A common-sense strategy is to look at your monthly debt statements and see how much interest you accrue, then pay at least that amount every month to avoid paying compound interest. If you can, pay more than the minimum amount each month to start chipping away at the principal balance.
BluPeak also offers personal loans with low fixed rates that can be perfect for consolidating and paying down high-interest debt. And if your current car loan is costing you more than it should, we specialize in auto-loan refinancing as well.
Automate
Being financially disciplined is tough enough, and sustaining that habit in the months and years ahead is challenging. So consider automating routine actions like paying bills from the right account, transferring money between your accounts to ensure that those automatic payments are covered, and saving leftover funds for long-term security.
BluPeak's Online and Mobile Banking capabilities allow members to automate many of those money moves so you can free up mental bandwidth for more complex tasks—like how to factor large, one-time expenses such as a wedding or a major vacation into a given-year's budget, or how to cover the sizeable, ongoing costs of buying a home, car or paying for college tuition.
On that note, BluPeak also has digital tools to help give you cold, hard numbers to inform those big decisions. As those moments approach, feel free to use any of our online calculators to start crunching numbers and come up with a precise plan to ensure your financial wellness no matter what life throws your way in the new year.
All loans subject to credit approval. Must meet membership and account criteria. Mobile and data rates apply when using mobile banking. BluPeak Credit Union partners with GreenPath Financial Wellness, which provides financial education and counseling services on our behalf. BluPeak Credit Union is not an affiliate of GreenPath Financial Wellness. GreenPath is a Trademark of Delaware North Companies, Inc.  
This content is for informational purposes only and is not intended to be financial or investment advice. Consult a licensed professional for financial planning and investment advice. Links to external resources do not constitute an endorsement or an approval by BluPeak Credit Union.