Contactless Payments Are Here to Stay: The 411 on Mobile Wallets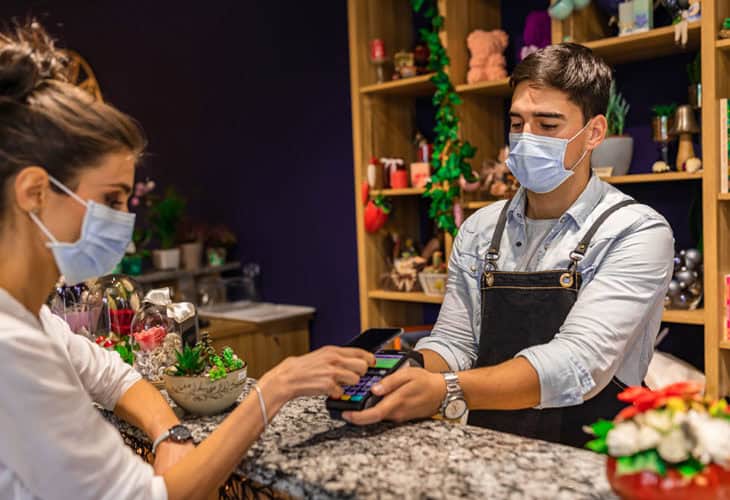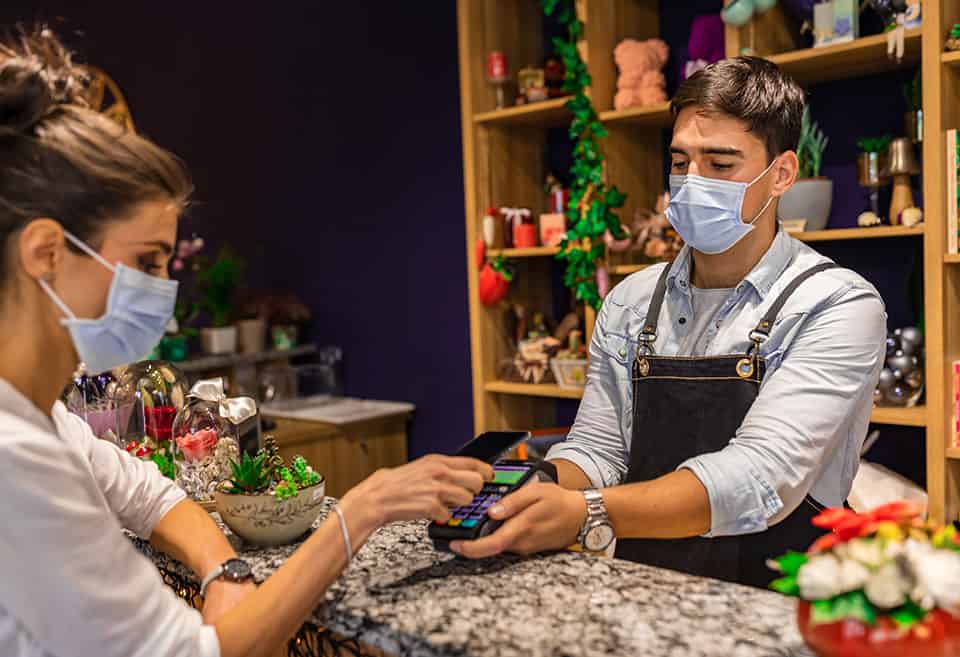 Keys, phone, and wallet: Most people don't leave the house without these three essential items. But did you know your phone can take the place of your wallet? Mobile wallets electronically store your payment information, so you can pay with your credit or debit card from an app on your phone.
Mobile wallets are a convenient and secure alternative to carrying around cards and cash, and they are quickly rising in popularity. Keep reading to learn how you can leave your bulky wallet stuffed with old receipts at home and safely make contactless payments at millions of retailers from the convenience of your smartphone.
What Is a Mobile Wallet, Exactly?
A mobile wallet is a digital wallet that's accessible through an app on a mobile device, such as a smartphone or smartwatch. Mobile wallets store digital versions of credit and debit cards on your smart device so you don't have to carry the physical cards with you. Some mobile wallets also store other information, such as electronic versions of ID cards, movie tickets, public transportation passes, airline boarding passes, and more.
You may already have a preinstalled mobile wallet app on your phone that will allow you to tap-and-pay at major retailers. The most popular ones are Apple Pay® for iPhones, Google Pay® for Android™, and Samsung Pay® for Samsung®.
How Does a Mobile Wallet Work?
Mobile wallets use NFC, or near-field communication, to transmit payment data from your smart device to the merchant's payment terminal.
The next time you're checking out at a store or restaurant, you can tell if the terminal is equipped for contactless payments by seeing if the card reader shows either your mobile wallet app's logo or the sideways Wi-Fi symbol. To pay, simply open your mobile wallet app on your phone, select the card you want to pay with, and hold your phone over the terminal for a moment.
Is It Safe?
Using a mobile wallet like Apple Pay® or Google Pay® is probably one of the most secure payment methods available because it requires multiple levels of authentication. Having a password set up on your device (and mobile wallet app) ensures that no one can use the mobile wallet but you, even if your phone is stolen.
Just like when you insert your chip card into a card reader, mobile wallets secure your payments with a randomly generated number or "token" instead of sharing your actual card information with the merchant. This helps prevent thieves from stealing your card info to make unauthorized charges on your account.
We also recommend taking these extra precautions to protect your card and other sensitive information:
Keep your phone locked when you're not using it, and make sure it can only be unlocked with a strong password, your fingerprint, or facial identification.
Protect your BluPeak Credit Union card with Card Management, available in Online Banking and our Mobile Banking App. You can temporarily turn your card off if it is misplaced, or report it as lost or stolen to prevent unauthorized use.
How to Set Up Your Mobile Wallet
It's really easy to start using your mobile wallet. All you need to do is download the mobile wallet app for your particular phone, then add your payment information. You can either use your phone's camera to scan your credit card or type in the numbers manually. Your card will be electronically verified by your card issuer, and then an image of your card will appear in your mobile wallet app, showing that it is ready to be used. You can scan additional cards as needed. The first card will be your default payment option for transactions, but you can select to use a different card when you make a purchase.
Get setup directions specific to your device's mobile wallet here.
Lots of Benefits, Very Few Drawbacks
At this time, not all retailers have the technology to accept payments from mobile wallets, but major store chains are likely to. If you're shopping at your corner store, you may need to pay with an actual card. However, more and more merchants are accepting contactless payments each day.
Also, to ensure you have access to your cards, you'll need to make sure your phone is charged.
That said, mobile wallets offer tons of benefits in addition to convenience and security.
Mobile wallets offer a completely touch-free transaction. In the age of coronavirus, many people prefer not having to handle germy money or use the same pen to sign a receipt as hundreds of other customers.
Using a mobile wallet helps eliminate a lot of paper clutter, since you no longer need to save receipts for record keeping. Your financial transactions will be stored electronically and can be accessed through Online Banking if needed at a later date.
You'll still get credit card points or any other rewards associated with your card when you make purchases with your mobile wallet, just like if you'd paid the old-fashioned way.
Ready to Get Started?
It's easy to add your BluPeak Credit Union Credit Card and Debit Card to your Mobile Wallet app and start making faster, safer purchases today!
Mobile and data rates apply when using mobile payment systems and Mobile Banking. iPhone is a registered trademark of Apple Inc.
Apple Pay is a registered trademark of Apple Inc. Google Pay is a trademark of Google Inc. Android is a trademark of Google LLC. Samsung Pay is a registered trademark of Samsung Electronics Co., Ltd. Samsung is a registered trademark of Samsung Electronics Inc.