The Health/Wealth Connection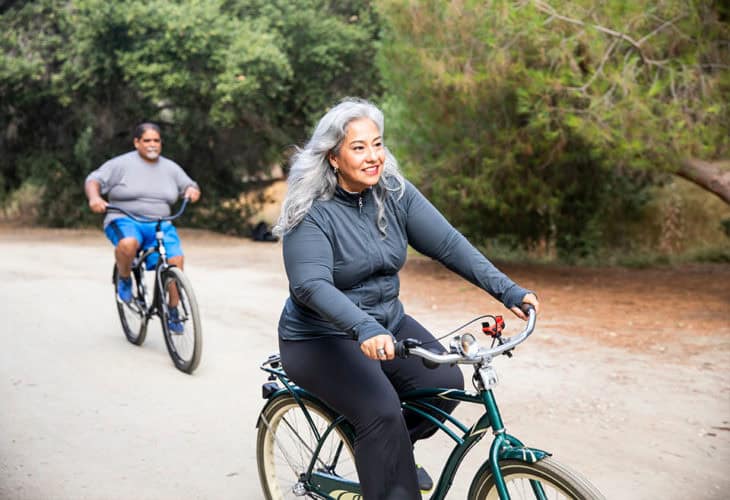 Drink plenty of water, eat right, get enough sleep, and stay active. That's all you need to do to support good health, right?
Not so fast. Your personal financial situation may also be a big factor when it comes to your physical and mental well-being. Your health and financial fitness are linked in a variety of ways, and taking steps to improve your finances now can pay off with positive health benefits—and a better quality of life—both now and in the future.
The Link Between Money and Health
Many adults experience money-related stress. If most of your take-home pay is earmarked for basic expenses and bills, it can be hard to afford quality housing, healthy, nutritious foods, or needed medical care. In fact, a large number of American households are not financially prepared for a major unexpected expense. Stressing about financial difficulties can lead to poor physical and mental health and increased risk for a variety of a health problems. Increased stress levels can lead to:
Higher blood pressure, which increases the risk for heart disease
Muscle tension and back pain
Digestive issues, such as ulcers and heartburn
Frequent headaches or migraines
Mental Health
Financial stressors also have a negative effect on people's mental health. Studies have found higher levels of depression and anxiety among those with large amounts of debt. After all, it's natural to worry (and lose sleep) if you're struggling to pay for an essential car repair, medical bill, or next month's rent. In addition, some people feel ashamed of having debt, which can contribute to poor self-esteem.
Many Americans also report money-related conflicts as a major source of stress in their relationships. If you're a careful saver and your significant other is a big spender that can be a recipe for conflict in your relationship.
Ways to Improve Your Finances
Fortunately, there are several steps you can take to increase control of your personal finances and help reduce stress-induced health issues.
Establish a budget: In order to successfully manage your money, you first need to know exactly where it's going. You can use our free online money management tools to easily track your income and expenses, set savings goals, and more. It's also important to have open communication with your partner about spending and money-related decisions to ensure that you're on the same page financially.
Create an emergency fund: Experts recommend saving enough money to cover at least three to six months' worth of living expenses in case of a job loss or other financial hardship. If you're new to saving, and that amount seems overwhelming, start small and save $20, $50, or whatever amount you can afford. Just make sure you keep regularly adding to your fund until you meet your goal.
Get—and stay—out of high-interest debt: Payments for credit cards and loans with high interest rates can really hurt your bottom line. Eligible borrowers can consolidate high-interest, unsecured debt using a low-rate personal loan to combine multiple bills into one simple monthly payment, which can significantly reduce the total amount of interest you pay (as well as the time and hassle of paying bills).
Monitor your credit: Your credit score is a key indicator of how well you manage loans and other financial responsibilities. Make sure you make all your loan and credit card payments on time, and keep your credit utilization ratio, or the percentage of credit you use compared to your credit limit, under 30%. If you need to start building your credit—or repairing it—try a secured credit card. You can also regularly check your credit score and request your free credit report to make sure all your information is accurate.
Automate your money with digital banking: Finding ways to simplify your day-to-day banking needs is one of the best ways to save time and reduce financial stress. If you haven't already, set up direct deposit with your employer so your paycheck will automatically be deposited into your account each payday. Pay your bills online and set up recurring payments for monthly bills so you never miss a due date. Turn on account notifications so you can receive alerts about your financial transactions in real time.
Protect yourself: Although the premiums and out-of-pocket costs related to a health insurance plan can be a significant expense, having coverage in place is often an essential way to access the care you need and help guard against incurring huge medical bills if you're sick or injured. Don't wait until there's an accident or you're facing a major medical expense to start thinking about health coverage. If you don't have access to health coverage through your job, you can apply for affordable health coverage through your state's healthcare marketplace during an open enrollment period. Our members here in California can use Covered California.
Committed to Your Financial Health
As a not-for-profit credit union, BluPeak Credit Union is passionate about empowering our members to reach their dreams and transform their lives. We offer a free financial wellness program that is designed to help you eliminate stress, build savings, and achieve your goals. Our program includes a variety of financial topics, including credit counseling, debt management, student loan repayment options, guidance for homeowners, and webinars to help you grow your financial knowledge and improve your money management skills.
Must meet membership and account criteria. All loans subject to credit approval. Rate terms and conditions subject to change. Other terms and conditions apply. This information is provided for educational purposes only and is not intended to be financial or health care advice.